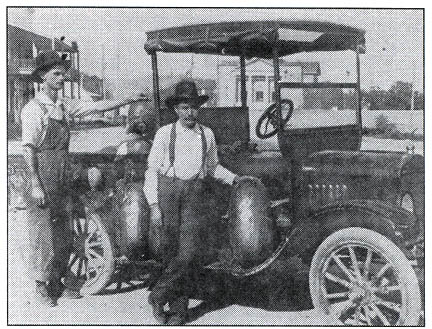 This picture is a Hot Springs farmer with some of his 100 pound watermelons..
(Photo courtesy of the Garland County Historical Society)
What makes Hot Springs so special? Although Hot Springs is a quaint little town nestled in the Ouachita (pronounced wash-it-aw) Mountains, its past is very colored, to say the least.
These not-so-well-known facts reveal the good and the bad of a town with character – a town that brought us an American president….. and more.
Doc Smith's Humor and History of Hot Springs:
53 blocks of our finest buildings were destroyed by fire in 1913.
The White Socks Baseball Club had a farm team here for many years called the "Hot Springs Bathers."
An 11 acre compound operated by the government for venereal diseases was located in the Gorge.
Tommy Freeman, the boxer who fought Jack Dempsey for the world Championship, lived here.
The National Arthritis foundation is located here.
Walgreen's second store was built here.
Oral Roberts started his evangelistic program here.
Al Jolson, the famous black-face comedian, married a girl from here.
Some horse trainers ship Mountain Valley Spring water from here for their horses.
A fish weighing 95 pounds, an Isralie Carp, was caught here in Lake Hamilton recently.
The Japanese once had a plant here with 23 employees for processing crystals.
A fine young married couple lost $23,000.00 at the races. (where did they get that kind of money?) She was employed by a bank and he by a large company. They both went to the pen.
Jo Ann Castle, famous with the Lawrence Welk Show, lived here and owned a house. Why would she move?
Dr. Rando P.h.D. of Wit
© Copyright 2002 Internet Connections, Inc.