Thousand Dripping Springs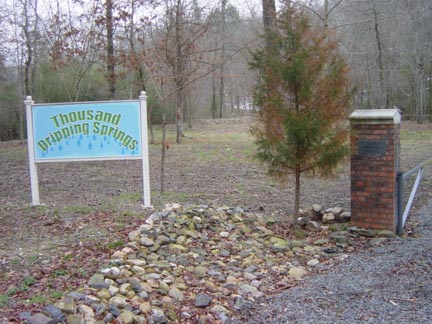 Thousand Dripping Springs Entrance on Mill Creek Road
Photo courtesy of Rodney Harrell
Hot Springs was a hotbed for travelers in the mid-1900's, and there are still remnants of that tourism boon. One particular attraction was the Thousand Dripping Springs fascination. Our professional tourist and research analyst Rodney Harrell recently visited the springs and took some photos.
Thousand Dripping springs is located just a few miles down Mill Creek road on the right side if you are driving in from Highway 70. It is before Panther Valley Ranch and there is a large aqua colored sign on the side of the road marking the entrance to the park. They have a drop box for a $2 per person fee at the gate.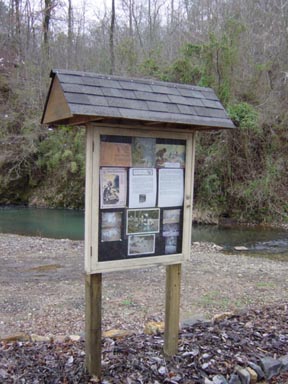 Thousand Dripping Springs History Board
Photo courtesy of Rodney Harrell
The area has a number of gravel covered walking paths, a nice bridge over the creek and several marble benches for resting and taking in the beauty of the site. There is a nice reflecting pool fed by a small stream and of course there are the springs. The moss covered hillside is constantly dripping with spring water. There is a billboard at the site giving some of it's history which stretches back to the time when local Indians enjoyed the cool streams, pools and springs.
Rodney tells us, "Although this would be a great place for a mid-summer picnics, the owners do not allow food or drink in order to keep the park clean. This being said I think this would be a great place for local citizens or visitors to enjoy a spring or summer afternoon."
THOUSAND DRIPPING SPRINGS - PAST AND PRESENT
Thousand Dripping Springs before Automobiles
Photo courtesy of Donna Smith

Rodney Harrell's Modern Re-Creation of the Photo
Photo taken by Rodney's wife, 24 hours before she gave birth to a daughter!
Special thanks to Rodney Harrell for the photos and the description of Thousand Dripping Springs. We left out the history of the springs, you'll just have to visit there to read all about it! If you find a extraordinary location in Hot Springs, drop me a line by clicking on my name below.
Dr. Rando PhD of Wit