Miracle Water That Heals Chronic Constipation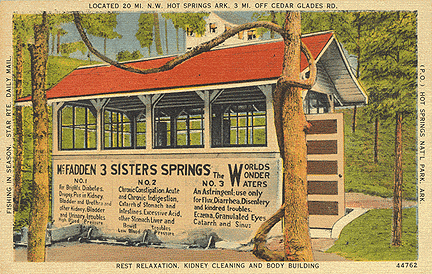 3 Sisters Springs Claims Curative Waters

postcard courtesy of Donna Smith

A local web page boasts – "Three Sisters Springs - This has been a major attraction in the area since the late 1880s. The water welling up from these springs is said to have "curative powers" for different ailments. Visit the famous springs and take home some of this unusual water."

Three Sisters is a common name to the citizens in Hot Springs. Three Sisters is what most people call the Lake Ouachita State park. The park is located on the eastern tip of Lake Ouachita, just 20 miles northwest of Hot Springs. Known for its clear water, Lake Ouachita (wash – uh – taw) is Arkansas' largest man-made lake, 48,000 acres in size with 975 miles of shoreline.

But what about those three sisters? Where did the name come from? Like the Sleeping Bear Dunes in Michigan, perhaps 3 Sisters got its name from Native American legend. The Indians in Michigan saw the large dunes, and claimed they looked like a sleeping bear. The 2 islands adjacent to the dunes are said to be the bear's cubs.

Did the Indians see these 3 adjoining springs and allege they were sisters? And did the water from the springs really have medicinal powers?

The claims made by the spring operators listed healing for these physical ailments:

Spring #1 – For Bright's disease, diabetes, high blood pressure, dropsy, pus in kidney – bladder and urethra, and other kidney, bladder and urinary troubles.

Spring #2 – For chronic constipation, acute and chronic indigestion, low blood pressure, catarrh of stomach and intestines, excessive acid and other stomach, liver and bowel troubles.

Spring #3 – An Astringent. Use only for flux, diarrhea, dysentery, eczema, granulated eyes, catarrh and sinus problems.

The springs are still available for public viewing through a modern springhouse. Visit the World's Wonder Waters for rest, relaxation, kidney cleaning and bodybuilding!

Dr. Rando

, PhD of Wit

© Copyright 2002 Internet Connections, Inc.