Woman Disappears at Magic Show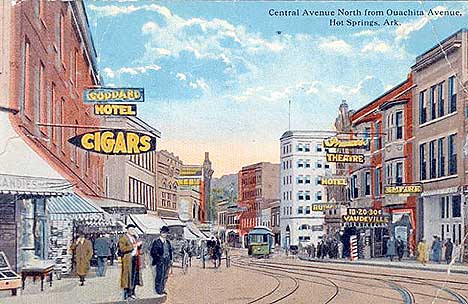 Postcard with Princess Theatre on the Right
Postcard courtesy of Donna Smith
The legend of the vanishing woman from Hot Springs still exists today. The Princess Theatre, located at 817 Central Avenue in downtown Hot Springs was once used for a magician's act. Research tells us that the German magician Jerome Schmitar had performed in the theatre on a hot August night nearly 100 years ago, and something went terribly wrong.
As magicians do, he performed an act where he caused someone to disappear, and then reappear minutes later in the same location. But on August 28th, an aberration fell upon the spa city. As the show was progressing, Jerome invited a young lady from the audience to help him with his next trick. She was introduced, and was covered with a large piece of silk.
With magnificent timing, Jerome withdrew the silk, and to everyone's amazement Clara Sutherland was nowhere to be found. Abra cadabra, he commanded her to reappear. NO CLARA. Again, he called her forth. NO CLARA. A third time, NO CLARA. Much to the magician's dismay, she never reappeared!
This mystery remains unsolved to this day. Marcus Phillips, Hot Springs's most renowned local historian remembers that the father of the young girl shot a man who looked like Jerome, but is not sure of the outcome.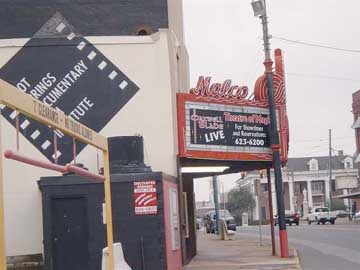 Present-day Location Where Woman Strangely Vanished
Photo courtesy of Rodney Harrell
Years later the Princess Theatre burned and in place of it was built the Malco Theatre. The Malco was "the place to go" for movies in Hot Springs. At one time, gambling bosses decided to blow up the Malco. Marcus tells us that the men hired to do the job set the bombs on a timer, and the bombs blew the men up before they got them to the theatre. (now that's a magic trick NOT to be repeated)
Could it be that the spirit of Clara Sutherland is protecting that sacred place where Clara met her fate? And even more amazing is that since 1996 the Malco Theatre has been used for – you guessed it, a Theatre of Magic.
Maxwell Blade's Theatre of Magic has used the Malco (Princess) for its permanent home for the past 8 years. Maxwell Blade and his cast had traveled the U.S. extensively. However, in 1995 he chose to settle in Hot Springs and open a permanent theater of magic.
The vanishing woman has kept her legend alive, as Maxwell tells Clara's bizarre story each night of his show. No one in Hot Springs has been able to solve the mystery of the disappearing woman, and everyone here truly believes it!