Legends at the Arlington Hotel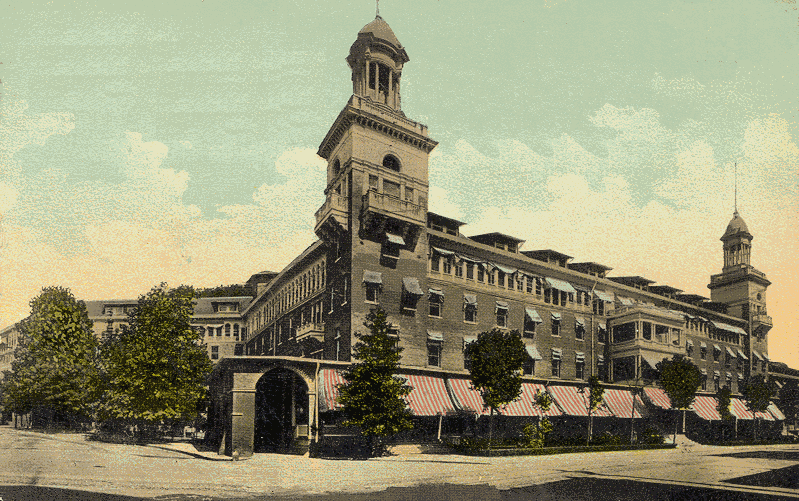 An Earlier Version of the Arlington Hotel
Photos courtesy of Donna Smith
The Arlington Hotel has the richest history of all the lodging places in Hot Springs.
The original 4-story Arlington was built in 1875. In 1892 the building was razed and replaced by a larger brick structure. The second Arlington was destroyed by a fire in 1923 and was replaced by the current 484-room Arlington. The present Hotel consists of an eleven story central portion with two seven-story wings. Two domed towers rise from the intersection of the wings with the central portion of the building.
The Arlington acquired the Schweer Cadillac dealership after a fire gutted that building and converted it to a small restaurant and parking garage.
Historians tell us that when Al Capone came to Hot Springs on vacation, he rented the whole 4th floor of the Arlington Hotel. Legend states the room he personally stayed in has been locked and will not be currently rented to anyone.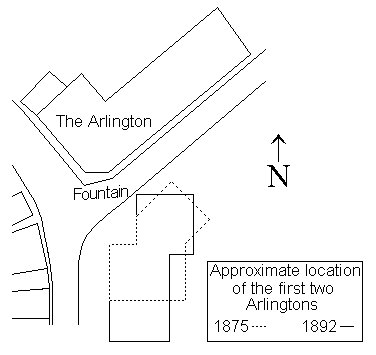 Map Courtesy of the Arkansas School for Math and Science

The first two Arlingtons were located on what is now Arlington Park, owned by the National Park Service.

Amazingly, the Baker Hotel in Mineral Springs, Texas was built after the Arlington Hotel.

The web page

http://www.mineralwellstx.com/history.htm states:

"In historic downtown Mineral Wells, the Baker Hotel commands attention from miles around. The Grand Old Lady -- opened her doors on November 22, 1929--three weeks after the Stock Market crash. She was designed after the Arlington Hotel in Hot Springs, Arkansas by Ft. Worth's famous structural engineer Wyatt Hendrick."

The Television station we now know as Today's THV actually began as a radio station in Hot Springs. In the 1920s, the Arlington Hotel Company converted its top floor into a radio station called KTHS, which stood for "Come to Hot Springs". The hotel hosted big bands in the Ballroom and transmitted the music live to their listeners. In the early 1940s, the radio station was purchased by the Hot Springs Chamber of Commerce and relocated from the Arlington Hotel to downtown Hot Springs.

It was purchased by the owners of the Arkansas Democrat Newspaper, and later evolved into a television station.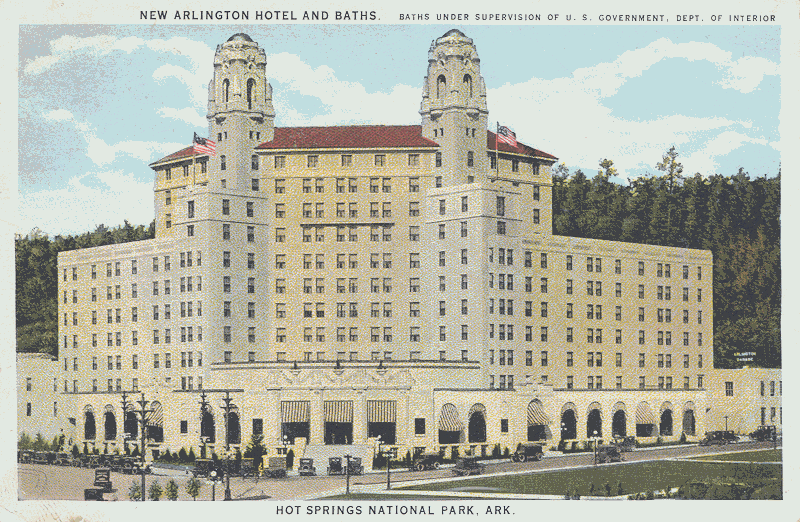 A Newer Version of the Arlington Hotel

The Web page "Ghost in My Suitcase" relates a story about finding ghosts in Hot Springs.

http://www.ghostinmysuitcase.com/places/index.htm. "We'd heard that it was haunted, but were having trouble finding any exact stories."

"We told the lady on the phone that Mitchel writes ghost books, and that we were doing research for a potential book about haunted locations in Arkansas. She said, "Oh, then you need to be up on the eleventh floor - that's where the ghosts are!"

"While sitting on the massive porch, we asked our waiter about any ghosts in the hotel. He smiled and said, "Oh yes, I've heard that there are definitely ghosts here! I just started work here, but I'll ask the bartender for the details and fill you in when I bring your drinks." When he came back, he just said, "Uh, there aren't any ghosts here." He sat our drinks down, then scuttled away. While we can't be sure, it certainly seemed like he'd been told not to talk to the guests about ghosts."

© Copyright 2002 Internet Connections, Inc.

Dr. Rando PhD of Wit