Indian Mountain,
Across from Gulpha Gorge
An Asset of the Caddo Indians
<![if !supportEmptyParas]>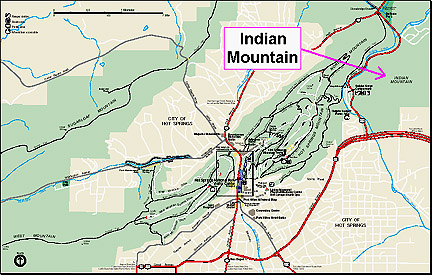 <![endif]>
<![if !supportEmptyParas]> <![endif]>
Not many locals in Hot Springs even know about Indian Mountain. The mountain is located between Gulpha Gorge campground and Magic Springs, and is rich in history. During the Arkansas Silver boom of the 1870's, Indian Mountain was named Silver Mountain. (Mining in Bear, Joplin and Silver, Arkansas never produced any silver) History notes that Sam Fordyce owned Indian Mountain, and his son John Fordyce deeded the property to the government while he was still alive.
<![if !supportEmptyParas]> Years ago the National Park Service gave tours up on Indian Mountain twice per week. But when people began taking the stones from the mountain, the Park Service stopped the tours.
<![if !supportEmptyParas]> Although it has no silver, Indian Mountain has several quarries rich in Novaculite. Novaculite is a very fine-grained sedimentary rock composed mostly of micro-crystalline quartz. It is dense, hard, white to grayish-black in color, translucent on thin edges and has a dull to waxy luster. Novaculite got its name from the Latin word "Novacula" which means razor.
<![if !supportEmptyParas]> One of the quarries on the mountain is a historic Novaculite quarry that is a narrow pit, 10 – 15 feet across which now has water in it. There is also a Native American Pre-historic quarry that is open on the hillside. The Caddo Indians mined the rock, broke off usable chunks (quarry blanks) and hauled them down the mountain to chip them into arrowheads, spearpoints, axes and knives. Then they traded them to Indians from the Mississippi delta area who didn't have access to this important mineral.
<![if !supportEmptyParas]> Arkansas Novaculite is of superior quality and is called "Arkansas Stone" or "Washita Stone." Amazingly, all Arkansas Novaculite is found within a 50-mile radius of Hot Springs. Modern-day use of this stone includes whetstones; surgical, dental and gunsmithing tools, and stones for testing gold. A ski school in Austria actually buys Arkansas Stone to polish skis, and the stones were even used in the 2002 Winter Olympics in Salt Lake City!
<![if !supportEmptyParas]> Back to your question – Is the Park Service preventing the public from going up on the mountain? No. But they have not maintained the trail, and it has many fallen trees on the path. They discourage exploring the mountain, but they do not forbid. It is doubtful that you could easily find the quarries, since the area is grown over with vegetation.
<![if !supportEmptyParas]> The trail is easily visible – just look across the road from Gulpha Gorge Campground. Be advised that taking any minerals from the park is a legal offense. If you explore the mountain and have an enjoyable discovery, drop me a note.
<![if !supportEmptyParas]> Dr. Rando PhD of Wit