Fourche ă Calsat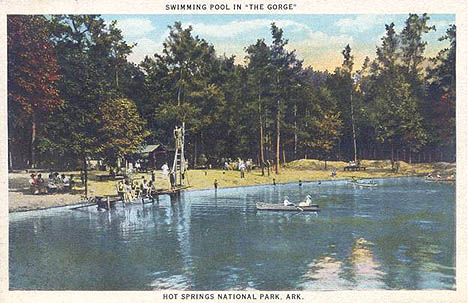 Gulpha Gorge Swimming Hole
postcard courtesy of Donna Smith
In 1804 it was named Fourche ă Calsat, now it is called Gulpha Gorge. The deep canyon between Hot Springs Mountain and Indian Mountain is rich in history and legend. Gulpha Gorge is now a campground and picnic area located on Gulpha Creek just outside of downtown Hot Springs. (over the mountain from Hot Springs) If you were to go behind the bathhouses and walk over the mountain, you would be at Gulpha Gorge.
Before 1930, the city of Hot Springs owned the area and maintained a "swimming pool" at Gulpha Gorge. (as seen in postcard above)
When the National Park Service bought the property in the 1930's they took the dam out and let the water run. Today the area has a creek of running water to refresh the picnickers and campers.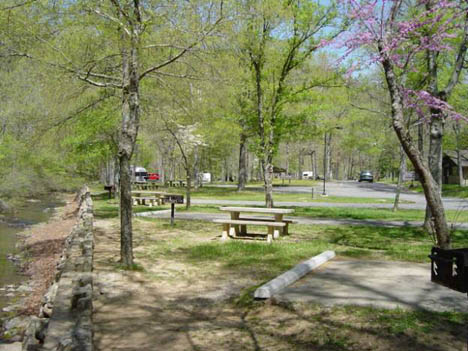 Gulpha Gorge Picnic Area and Campground Today
photo courtesy of Rodney Harrell
Legend states that the Caddo Indians camped in this area when going up to the quarry on Indian Mountain. Some called the creek the River of Soft Water due to the calcium content of the water.
The Legend of Sleepy Water states that a great Indian Chief came to Hot Springs to find relief from pain, and did not get results from the hot waters. His daughter led him through Gulpha Gorge and took him to a place of cold water. When he drank the water, he fell into a sleep, and when he woke up he was healed. The water at Gulpha Creek was the sleepy water. View the whole story at:
http://www.manataka.org/page98.html
The trail from the campground is listed as a great place for camping and rock climbing. Check out the description at:
http://www.rockclimbing.com/routes/listArea.php?AreaID=1715
The creek is run-off from the mountains as well as being spring fed. Remains of the Big Iron Spring of the Gorge can be seen from the campground. (look for a pipe and cement wall near the creek)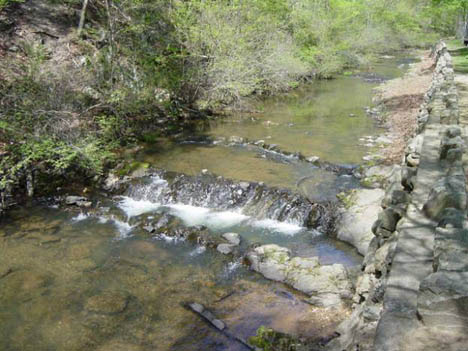 Gulpha Creek at the Gorge Today
photo courtesy of Rodney Harrell
The creek and picnic area have become a favorite for local residents, and the campground is enjoyed by tourists from around the world.
Fourche ă Calsat?
Gulpha Gorge?
Deep Canyon?
Sleepy Waters?
Ancient Indian Campground?
Dr. Rando, PhD of Wit