Goddard Hotel - Shrouded in Mystery and Conflict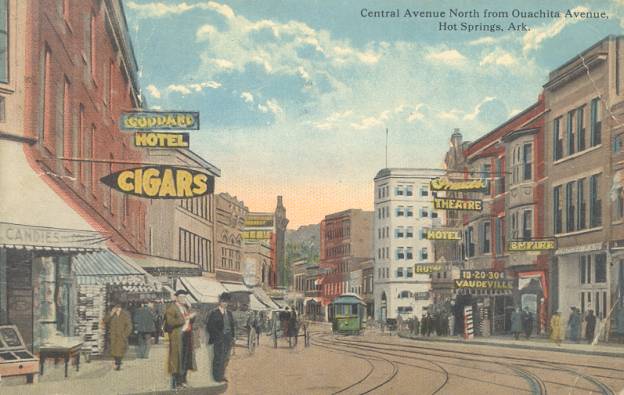 Goddard Hotel on Central Avenue in Hot Springs
postcard courtesy of Donna Smith
In recent history, the Goddard Hotel has been shrouded in mystery and conflict. But this hotel was once a hallmark in Hot Springs' history.
The original hotel was a wooden structure built as the Goddard House in 1897 by Robert W. Goddard. That building burned to the ground in the fire of 1905, and a brick structure was built to replace it around 1907. Records from 1908 list the hotel at 830 Central Avenue with M. Kinney as the proprietor.
By 1910 Mrs. J. W. Hutsell was the proprietor for the 56,000 square foot building.
You can't miss the Goddard, and although it is located on the corner of Central Avenue and Chapel Street, it is located in the main gateway into the city.
Around 1999 a woman bought the Goddard with the intentions to recapture the spirit and elegance of its history. If you do an Internet search on the Goddard Hotel in Hot Springs, you are directed to a web page that documents a Chapter 13 procedure by the current owner. The hearing was set for February 19, 2003, in the United States Bankruptcy Court in Hot Springs, Arkansas. The document claims:
"According to (current owner), due to actions that are the subject of her concurrent RICO action, the hotel is currently in disrepair and generating minimal cash flow. (Her) position is that the city of Hot Springs, through and in conjunction with various governmental and private persons or entities, has sought to destroy the value of the Goddard Hotel and obtain possession of the premises. To redress these alleged wrongs, on September 5, 2002, she filed a RICO action in the United States District Court."
RICO = Racketeering Influenced and Corrupt Organization. Holysmoke.org explains, "Under the RICO statute, racketeering is defined as a criminal enterprise that affects interstate commerce and uses illegal means to further its ends. Originally enacted as a tool in the government's war against organized crime, the law has been used against a variety of other wrongdoers over the past two decades."
Is the City of Hot Springs a criminal enterprise, similar to the Mafia? Did the city use illegal means to further its ends? Was the city trying to illegally obtain possession of the Goddard?
Some claimed this modern-day proprietor was intending to refurbish the building with its original grandeur, but open up a topless cabaret in the facility.
The September 2nd issue of the Hot Springs print newspaper stated the Goddard has recently been sold to a Chicago physician, who plans to secure the hotel's place on the National Historic Preservation Registry.
The Goddard has been a part of Hot Springs for over 100 years. In spite of fire, several owners, and questionable intentions, it remains as a stalwart figure in the main entrance of the Spa City. Time will tell whether the Goddard is ever restored back to its original beauty.
(special thanks to the Garland County Historical Society for information on this article)